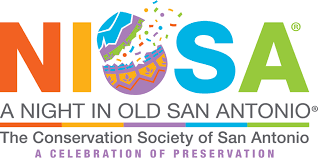 NIOSA occurs in the heart of downtown San Antonio on the grounds of La Villita Historic Arts Village District, with its nearly five acres of historic buildings, cobblestoned streets, limestone walls and fountains; 
A Night In Old San Antonio pays homage to the city's diverse culture with food, music and décor that for four nights transforms the village into 14 distinct cultural areas; 
160+ food, drink and atmosphere booths and 9 entertainment stages with continuous live music; 
Unique Food items are prepared by thousands of NIOSA volunteers on-site. Many popular dishes can only be enjoyed at NIOSA, including Maria's Tortillas, Anticuchos, its own German sausage, and Bongo-K-Bobs; 
NIOSA is a "Celebration for Preservation" and the top fundraiser for historic preservation in the United States. It is solely produced by and benefits The Conservation Society of San Antonio (one of the nation's oldest and most active historic preservation organizations); 
The Society has been responsible for saving many of the historic buildings, parks and waterways that make San Antonio one of the top destinations in Texas, including the Casa Navarro State Historic Site, the Aztec Theater, Fairmount Hotel and numerous structures in the La Villita Historic District; 
Locals have consistently voted A Night In Old San Antonio as their favorite event. NIOSA was listed as the #1 Fiesta event by the San Antonio Current in 2019. 
Tickets are $20 and available to purchase at www.niosa.org. Children under the age of 12 are free when accompanied by an adult. 
No backpacks allowed. Large handbags and diaper bags larger than 12″x12″x 6″ are prohibited. Clear bags are encouraged. 
210-226-5188 | niosa@niosa.org | www.niosa.org
 
COVID-19 PROTOCOLS FOR THIS EVENT: 
The Conservation Society of San Antonio and NIOSA leadership are monitoring the Coronavirus situation carefully and collecting information from numerous organizations including the CDC's "Considerations for Events and Gatherings," International Festivals and Events Association and other events across the country. 
 New safety protocols include (but are not limited to): Limited number of attendees per night; reduction of food/drink booths; new serving protocols; added hand sanitation and hand wash; electronic cashless wristband for entrance tickets, foods, drinks and souvenirs; and enhanced sanitizing protocols. Updates on NIOSA safety policies can be found at the niosa.org website.